Since CrystalTest is a United States based company our customers have all the advantages of doing business with a partner on a national basis that has direct connections with high-quality resources that are overseas. We make the outsourcing process simple and straightforward. Our customers do not have to care about time differences, language barriers, and communications. The strategy we propose makes it easier to discuss setup, specifications and design requirements, control project progress, and do necessary changes just in time.
We offer our clients the following types of outsourcing:
• Offshore software development
• Offshore software testing and quality engineering
All of the above include analysis and design work at the customer's site, while the rest of the software development process is performed offshore. We thoroughly plan the entire outsourcing process covering a myriad of necessary details. Once we understand our customers goals and requirements, we are able to keep them free of time consuming micromanagement.
We work with our clients to setup the following:
• Project Requirements
• Deliverables
• Security
• Schedule and Milestones
• Service Level Agreement
• Sign-off Criteria
Once the outsourcing project is started, CrystalTest takes full responsibility for coordination, communications, and control of the project progress. We utilize a direct customer link via a virtual private network (VPN) that ties into a Control Center, test machines, project and bug tracking databases, and web servers. We use this structure as a communication and control channel so that the customer can see the project progress in "real time" and make changes as needed. The customer is able to see right from CrystalTest VPN project issues reported by the offshore team, historical build issues and is able to download, install, and test the latest versions. Our customers can discuss any concerns they have about the project, and CrystalTest will take care of these concerns immediately.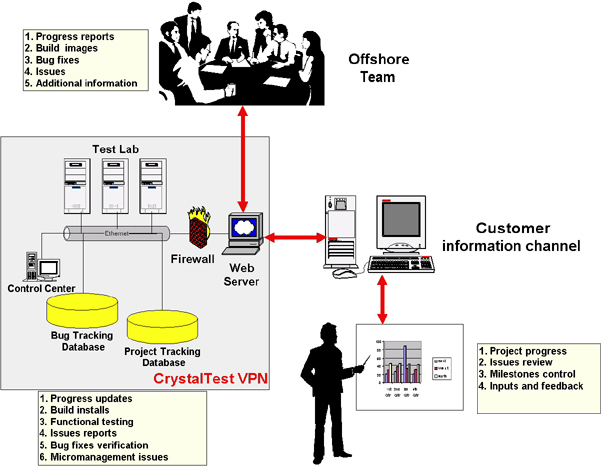 One of the most important concerns is product quality. Very often the product works fine in the development environment, but has severe bugs in the customer's environment. That's why we use our project VPN as a testing resource to make sure that every incoming build is free of new and reported problems. We use our "Virtual Customer" and "Automated Build Certification" solutions to update bug and project tracking databases in real time.
How our business process works for our customers
• Project requirements are carefully evaluated, discussed and crystal clear for all parties
• Project Development and Engineering Specification documents are completed
• The project schedule, delivery phases, and acceptance criteria for each phase are setup
• The project phase results are approved before starting the next phase
• The project status is reported and available in real time
• Any unexpected problems and delivery delays are reported and communicated back to the client
• Independent acceptance testing is done for each build
As a result of our business process
• Project will be delivered on time
• Project will be within cost (typically 40% less than on-site development)
• Project will be within scope
• Project will meet or exceed customer quality requirements
Benefits of our business solution
• It keeps the whole team informed of the project progress
• It clearly shows project milestones and deliverables
• It keeps all project teams informed about all issues in "real time"
• It allows production of cost analysis
• It measures resource allocation
• It forewarns any project delays